Accessibility
PARKING & UNLOADING
The closest blue badge parking spaces are two streets over on Edge Street and Kensington Place. Click here to find your nearest blue badge parking area.
Blue badge parking does not apply in central London, but there are blue badge parking benefits, including an additional hour. Click here to find out more.
There are single yellow lines on Kensington Church street which means you can legally pull over by the side entrance to unload wheelchairs.
There is a pavement ramp on the corner outside the pub for easier access onto the footpath.
For a Google Street view of the pub, click here.
ENTRY AND EXIT WITH WHEELCHAIRS
The Churchill Arms has three entrances, but our wheelchair accessible entrance is the middle entrance located on Kensington Church Street.
This entrance has double doors and measures 100cm wide.
There is a small step at this entrance. Therefore, The Churchill Arms has a mobility ramp which the staff will install for your entry and exit if required. Please notify a member of staff that you require the mobility ramp and they will happily oblige. You can do this by calling us on 020 7727 4242 when you arrive, or asking someone to notify a member of staff for you.
You can also call to notify us in advance of your expected time of arrival so we are prepared for your visit.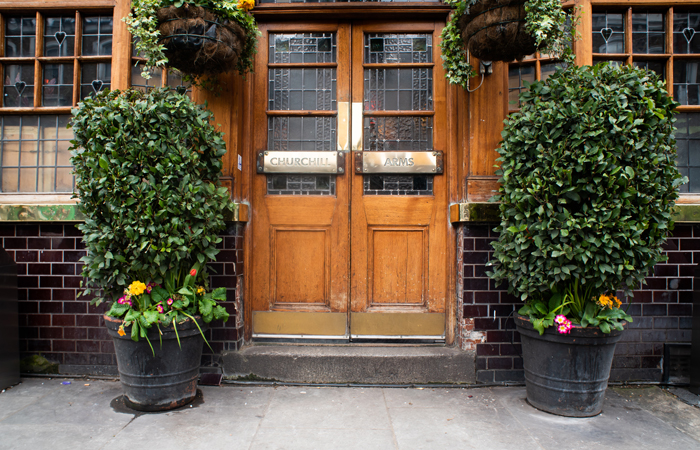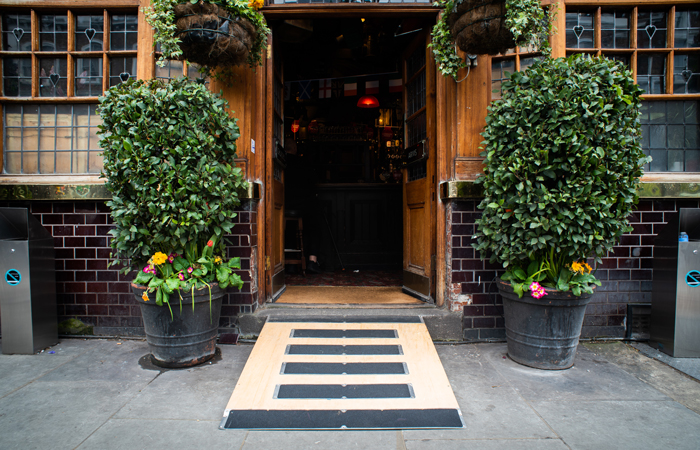 Above: The Churchill Arms middle entrance before and after the wheelchair ramp has been set-up by staff.
TOILET ACCESSIBILITY WITH WHEELCHAIRS
The Churchill Arms unfortunately does not have wheelchair accessible toilets. The pub was built in 1750 and no major changes have been made since then, so the entrances to the bathrooms for both men and women are narrow and are not easily accessed by wheelchairs.
We apologise for any inconvenience this may cause.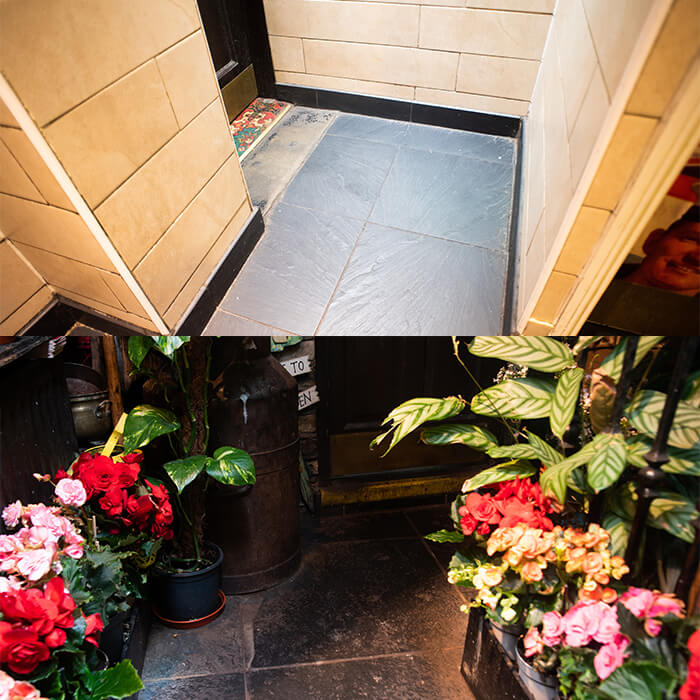 Above: The entrance to the men's toilets and the entrance to the women's toilets at The Churchill Arms.
ACCESS TO THE THAI RESTAURANT
Due to the cosy layout of tables and two steps down into the restaurant area, the Thai Restaurant is not easily accessible for wheelchairs. Most wheelchair users sit in the upper section of the restaurant which is reached through the main bar area, or are served meals in the main bar. Some wheelchair users request to sit on the lower level in the main restaurant, and are helped down the steps manually by staff from the restaurant.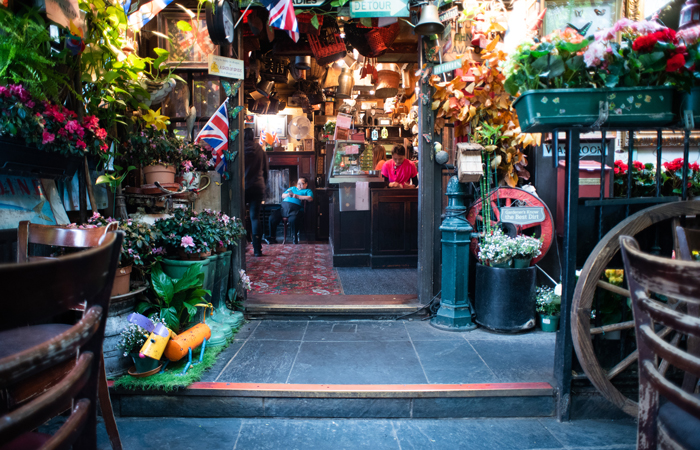 Above: there are two steps down into the Thai restaurant at The Churchill Arms.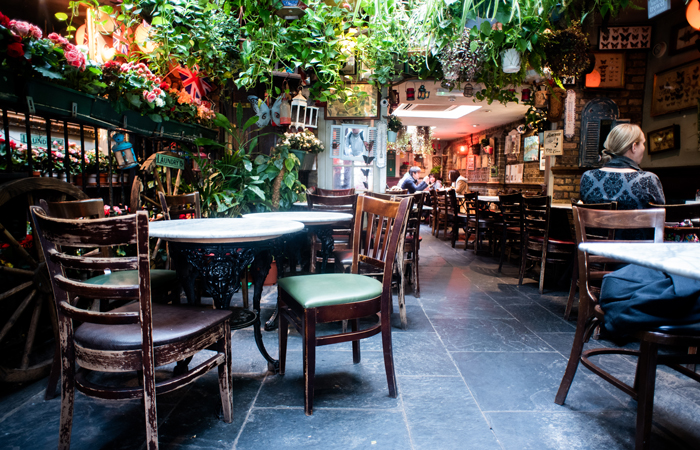 Above: inside the Thai restaurant area at The Churchill Arms.
HOW TO FIND US
We're well served by buses 27, 28, 31, 52 and 70, which stop opposite the pub.
Find us here: How to get to The Churchill Arms
If you have any questions, please do not hesitate to give our friendly team a call on 020 7727 4242.
We look forward to welcoming you at The Churchill Arms.